Faculty of Medical and Health Sciences
---
The Faculty of Medical and Health Sciences is spread across two of the University's satellite campuses, Grafton and Tāmaki.
The University also shares a close relationship with New Zealand's finest specialist hospitals through strategic alliances with major District Health Boards, providing students with unparalleled access to environments of clinical excellence. It also shares a teaching and practice partnership with Auckland's original private hospital, Mercy Ascot.
Some of our courses are also taught on the City Campus.
Grafton Campus
---
Grafton Campus is situated in the central city suburb of Grafton, opposite Auckland Hospital and adjacent to the Auckland Domain.
The campus is home to students from the Bachelor of Medicine and Bachelor of Surgery, the Bachelor and Certificate in Health Sciences, and also those from the Bachelors of Pharmacy and Nursing.
Grafton Campus also hosts biomedical science undergraduates, many of whom continue on to doctoral study in the faculty. Ground-breaking discoveries made by faculty researchers are strongly facilitated by Grafton Campus, due to many state-of-the-art (and often custom-built) research facilities.
Grafton Campus also houses stunning amenities that include a licenced café, a dedicated Student Centre and an Information Commons with over 100 new computers for student use. Where possible, departments also provide computer resources and study spaces for students. The campus also has a specialist medical library (the Philson) and a Student Health Centre.
Physical address and phone number
85 Park Road, Grafton
Phone number for general enquiries: +64 9 373 7599 or more contact details
How to locate a certain room in Grafton Campus
At the Grafton Campus, rooms are numbered according to the following format:
first three digits: building number
fourth digits: the floor of the room
third and fourth digits: the actual number of the room.
Example:
Room 504-331 or 4331 on a door would be:
in Building 504
on the third floor (3)
room 31.
Buildings
501: AUMSA, Biomedical Engineering Services
502: AMRF Medical Sciences Learning Centre, Anatomy with Radiology, Centre for Brain Research, Neuroscience Laboratories
503: Student Centre, Café, Biomedical Imaging Research Unit, Molecular Medicine & Pathology, Neuroscience Laboratories
504: Auckland Cancer Society Research Centre, Molecular Medicine & Pathology, Nutrition, NZ National Eye Bank, Ophthalmology
505: Administration, Cancer Trial New Zealand, Faculty Services, Counselling Service, Information Commons, Information Technology Services (ITS), Liggins Institute, Medical Sciences, Molecular Medicine & Pathology, Medicine, Nursing, Oncology, Ophthalmology Clinic, Pharmacology & Clinical Pharmacology, Pharmacy, Physiology, Unisafe, University Health Services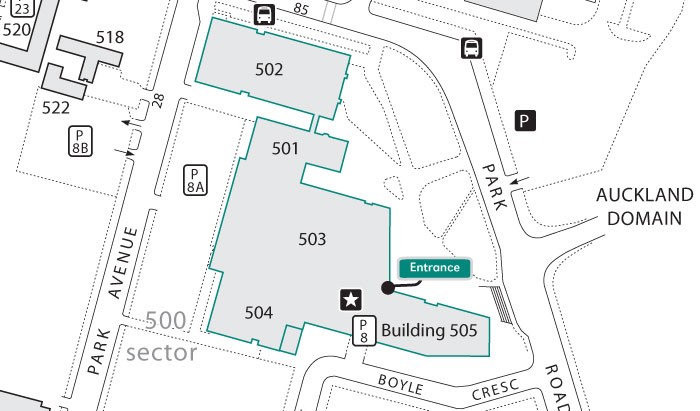 Top
Tāmaki Innovation Campus
---
The University of Auckland's Tāmaki Innovation Campus is distinguished by its collaborative, interdisciplinary, and research-intensive profile.
On campus is the School of Population Health, which is housed in the impressive Population Health complex designed by Architectus Auckland. The building offers a unique environment promoting collaboration, and special features include integrated and sustainable design, an open floor plan, energy-efficient lighting and heating systems, the use of local materials, and Māori and Pacific cultural design elements.
Tāmaki Campus is approximately 20 minutes drive away from the Grafton and City Campuses, two minutes walk from the Glen Innes train station, and ten minutes drive from St Heliers and Mission Bay. There is easy access from the motorway, ample parking, and high quality amenities at Tāmaki Campus.
Top
City Campus
---
The University has had a presence on what is now the City Campus for over 100 years.
Today, the City Campus comprises 16 hectares in the heart of Auckland City. On its western flank lies historic Albert Park. To the south-east is Auckland Domain.
Close to Auckland's central business district, the campus enjoys access to the cultural and commercial amenities of the country's largest city. Harbour views and nearby parks add to the attractiveness of this inner-city campus.
The City Campus provides a full range of amenities, including cafés, health services, libraries, childcare facilities, and a recreation centre.
Historically significant buildings on the City Campus include Old Government House, the ClockTower (formerly the Old Arts Building), and University House (once a synagogue).
Top
Other sites
---
The South Auckland Clinical Campus offers training in areas of specific relevance to the South Auckland population, including diabetes and renal disease, trauma and orthopaedic complications, psychiatric illness and substance abuse.
The Waikato Clinical Campus is an academic division of the Faculty of Medical and Health Sciences and provides clinical teaching and research for undergraduates and postgraduate medical and allied health science students.
Top