Faculty of Medical and Health Sciences
---
Faculty events
Social events provide a great opportunity for networking, socialising, and team building. We encourage both our staff and students to attend our wide range of fun and informative events such as Orientation Day, Graduation, Staff Christmas parties and more. Come share our faculty's celebrations and achievements.
2018
---
Watch our video clip of all the highlights from our 50th Annviersary Open Day.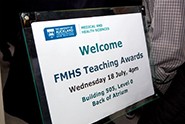 Our Teaching Awards were held on 18 July 2018. See the highlights of the night.
'Politics, Power and Positionality- prioritising Māori health'. Held on 8 August 2018.
Listen to Professor Jull's inaugural lecture titled 'Walking in two worlds: overlapping nursing and epidemiology'.
Professor Patel's inaugural lecture titled 'Through the looking glass, and what I found there' was held on 15 August.