This internship is a great opportunity to get your foot in the door, and meet some very dedicated and insightful individuals within the health sector.
I was very lucky to work with Rebecca Williams and the Auckland Alcohol EPG, whom were very supportive of my work and provided guidance throughout the project. Not only has this internship strengthened my knowledge in health inequities and alcohol-related harm, but I have further attained skills in building and maintaining relationships, along with achieving targets.
I would definitely recommend this internship to all students looking to build on their research and co-ordination skills within a healthcare setting.
You finally get the chance to apply all of the skills and knowledge that you gain throughout University, to a context where it makes a real difference. I feel confident that this experience will open up several doors for me in the future.
Shama Kukkady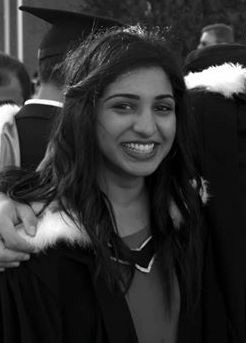 The opportunity to undertake an internship with the Auckland District Health Board has really enhanced my knowledge around the delivery of health services and some of the challenges involved within the public sector. I've learned a lot, been tested, been rewarded, and met a number of really great and knowledgeable people.
I initially had worries about how I would fit into the role, but was immediately welcomed and embraced by the organisation. They were respectful of my plans to study alongside the internship and have been extremely supportive in helping me to develop professionally.
Having an active role within a new and innovative national service has been an especially valuable experience and opened my eyes to some of the ground breaking work being undertaken to improve public healthcare in New Zealand. This role also allowed me to apply what I've learned from my studies in practice, and it was humbling to see the impact this knowledge was able to have.
Caleb Marsters
Throughout my internship at AHW, I have grown to develop many skills through the various opportunities provided to me by the organisation. I've had a hand in developing interview schedules, contributing to planning meetings, and am currently undertaking interviews with key stakeholders.
In addition to this I've acquired great knowledge surrounding real life matters of importance which affect communities. I primarily use the knowledge I've gained through the health promotion, health informatics and research methods modules of my undergraduate degree.
As I am hosted at HPA and employed by AHW, I have had to learn how to balance my time between two different teams and navigate the different group dynamics which go along with each team. It has been a challenging process which I've found very rewarding. In addition to this I also have greater contact with other stakeholders who are involved with the action plans around alcohol over the greater Auckland region.
For anyone who is not sure what kind of work is available out there, I urge them to try their best in applying for these internships. It has been a huge learning curve trying to manage my time between my own research coursework at the university, and working part-time at AHW.
However the skills and networking possibilities gained from this internship I believe are priceless. You really feel that you are contributing to something larger than yourself and that the years spent studying about the degree finally comes together as you'll pull from different parts of your degree to carry out different tasks.
My plans for the future have not been cemented yet, but this internship has helped me realise that I would very much like to continue doing research and consultation for parties outside the university. I believe that the level of academic research which we are taught to carry out has a role to play in influencing decisions and the future face of public health in the country. The experience so far has been great and I would do it all over again if given the chance.
Adrian bin James Amandus
The Postgraduate Internship programme has provided me with a wealth of experience and opportunities. A lot of times, it is very difficult to find an entrance level job in the non-clinical side of health, so having the school of population health take care of this side of the process is already very helpful.
In addition, it also provided me with valuable insight to the health sector, allowing me to find interests and a direction to pursue a career in health.
Furthermore, it has allowed me to network with a wide range of health professionals in the sector which I am confident will inevitably help me along my career. There will undoubtedly be situations where you are put out of your comfort zone, however I feel each one of these situations has only made me more prepared for the next and the internship programme provides an excellent environment to nurture you through this initial stage of your working career.
Overall, I would greatly suggest anyone to take this programme as it has not only been rewarding, but benefited my knowledge and skills both inside and outside of my postgraduate degree."
Daniel Tang