School of Population Health
---
Programme grant objectives
---
The objective of this programme is to prevent disability and minimise dependency in older age.
We will reduce disability in older age through:
understanding the experience of impairment and disability by older people
understanding the relationships between impairment and disability, and modulating factors including socioeconomic, societal, and psychosocial factors
reducing impairment through improvements in specific disease states and frailty
designing and testing interventions to reduce disability..
Overview
---
Five project grants form this application. These impact disability with:
Grant Y: minimisation of mental health disability through a physical activity programme (funded 2005)
Grant Z: modelling primary care in an ageing society using existing data, PCASO (funded 2005).
New grants examine:
Grant C: the impact of a targeted case-finding and assessment strategy on levels of disability in older people.
Together these grants will guide further intervention development to efficiently impact impairment and disability to improve quality of life and independence for older people.
Primary healthcare is a common theme through PCASO (funded grant Z), project grant C, the case-finding trial, the cohort study (project grant B) which will comment on the place of primary healthcare. A thorough understanding of the structure and function of primary care as a factor in reducing disability by promoting access to and direct delivery of services is sought in this programme grant. The second three years of this programme grant will see the beginning of a longitudinal study of those in advanced age and testing of strategies to rationalise targeted intervention delivery through primary healthcare. An impact on disability levels in older people will result in improved quality of life and decreased expenditure for this ever growing group of older people.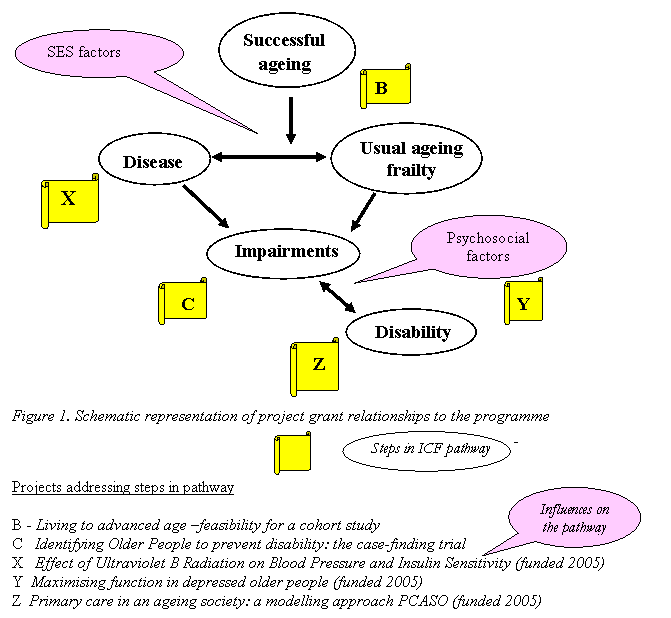 B. Living to advanced age - feasibility for a cohort study
There is a need to know more about advanced age as the oldest age group is the fastest growing and disability and dependence restricts quality of life and results in excess health and welfare spending. What factors predict successful advanced ageing, especially older Maori, and what pathways do those in advanced age take? What is the relative importance of health, frailty, social and economic factors? A longitudinal cohort study enrolling those in the top 1% of the population: aged 85+ for pakeha and 75+ for Maori will answer these questions. This research aims to establish the feasibility for all aspects of a longitudinal cohort study: identification of older people, recruitment, evaluation methods for health, social, environmental, physiological and biomedical factors and ascertainment of the relevant outcomes. Should feasibility be established, planning for a larger longitudinal cohort study will continue.
Investigators; Ngaire Kerse, Lorna Dyall, Martin Connolly, Tim Wilkinson, Robert Scragg, Joanna Broad, Alistair Scott, Valerie Wright St-Claire, Elizabeth Robinson, Sally Keeling, Santosh Jatrana.
C. Identifying Older People to prevent disability: the case-finding trial
The ageing of the population ensures that prevention of disability is a major public health concern. It is not known whether proactive health surveillance, using comprehensive assessment processes, benefits older people. This randomised controlled trial will establish the effectiveness and cost-effectiveness of case-finding in primary care, using a birthday card as a postal tool from the GP, in reducing disability and hospitalisation for people aged 75 years and older. Intervention general practices will systematically offer comprehensive health assessment and case management according to level of need identified on the postal tool. Control practices will continue with usual care. Hospitalisations, residential care placement and disability levels will be followed and compared between the groups for three years. Identification of disability risks and interventions to improve them may reduce the resultant excess spending on health and welfare for this group and improve quality of life and independence.
Investigators: Ngaire Kerse, Mathew Parsons , Martin Connolly, Gillian Robb, Paul Brown, Kathy Peri, Elizabeth Robinson, Lorna Dyall.
X. Effect of Ultraviolet B Radiation on Blood Pressure and Insulin Sensitivity (funded 2005)
There is increasing evidence that low body levels of vitamin D may increase the risk of hypertension and also insulin resistance (a risk factor for diabetes). In New Zealand, Maori, Pacific people and older adult Europeans have low vitamin D levels, particularly in winter. The aim of the current application is to see, in a randomised clinical trial, whether exposure to ultraviolet B radiation (the main source of vitamin D) lowers blood pressure and insulin resistance, compared with placebo. If successful, the study has the potential to lead to new public health strategies for preventing hypertension and diabetes, such as by sun-exposure or vitamin D supplementation
Investigators: Robert Scragg, John Wishart, Malakai Ofanoa, David Schaaf, Ngaire Kerse, Lorna Dyall.
Y. Maximising function in depressed older people
Project Y (funded 2005) examines the interface between psychological and physical disability. A randomised controlled trial will answer the question - does an activity programme reduce disability associated with mental health impairment? Physical activity coupled with social intervention will be offered to older people with depression by a trained nurse visiting the older person at home. This grant will yield important information about the influence of activity on disability and the interaction between physical and psychological disability. This project, already funded, is placed beside disability in the ICF pathway (Figure 1) and relates to themes 2), 3) and 4). The relationship between psychological impairment (low mood) and disability will be examined along with the relationship between reduced physical disability and psychological disability. The potential policy implications for physical activity promotion and benefits will be clear at the conclusion of this project grant.
Investigators: Ngaire Kerse, Bruce Arroll, Tony Dowell, Gregory Kolt, Raina Elley, Simon Hatcher, Kathy Peri, Sally Keeling, Karen Hayman, Elizabeth Robinson, John Parsons, Janine Wiles.
Z. Primary care in an ageing society: a modelling approach PCASO (funded 2005)
Nearly two thirds of government health expenditures may be consumed by people aged 65 and over by 2051. The response of the primary care sector, and the role of family and community resources, will be crucial in mediating this trend. Other relevant tendencies are growing ethnic pluralism, changing family patterns, rampant consumerism, and burgeoning hospital and specialist sectors. This project will build a computer-based model of the primary care system embedded in its social context. Central will be three elements - demographic ageing, family and community capacity, and practitioner and system response. Data from existing sources will be used to estimate the key parameters, and statistical matching will be employed. The project will develop, verify and validate the model, and then apply simulation techniques to test scenarios. The questions addressed are of international as well as local significance, and the results will inform theory, understanding, policy and planning.
Investigators; Peter Davis, Alastair Scott, Ngaire Kerse, Andrew Sporle, Laurie Brown, Roy Lay-Yee.
Other research
---
Other projects related to:
hip protector compliance
promoting independence in residential care
physical activity promotion
falls prevention.
Please contact Ngaire Kerse for information:
Top