Faculty of Medical and Health Sciences
---
Māori and Pacific Admission Scheme (MAPAS)
Use the links below to learn more about MAPAS.
MAPAS overview
---
MAPAS is a supportive environment that provides admission, academic and pastoral support for Māori and Pacific students who are studying foundation and undergraduate programmes within the Faculty of Medical and Health Sciences. Our goal is to support the transitioning and retention of MAPAS students through their cultural and educational journey to successfully complete and graduate.*
*The MAPAS General application and admission process does not apply to postgraduate students. Postgraduate students wanting to apply to the Medical, Pharmacy or Optometry programmes will need to complete the requirements for MAPAS Specialty Interviews. If you are unsure of how this may look, please contact us on 0800 20 20 99.
Am I eligible?
---
You are eligible for MAPAS if you:
Have verified indigenous New Zealand Māori or Pacific whakapapa/ancestry, and
Are a citizen or permanent resident of New Zealand, and
Have applied for entry into a FMHS programme.
Top
How do I become a MAPAS student?
---
To become a MAPAS student you must:
Go to www.auckland.ac.nz/applynow and complete an online application for admission to your programme of choice by the closing date set by the programme.
Submit a MH04 form by the due date outlined on the MH04 form.
Attend a MAPAS General or Specialty Interview.
Be offered (and accept) a place in a FMHS programme.
Important dates:
MAPAS General Interview dates for 2017 entry:
Monday 12 - Friday 16 December 2016
MAPAS Specialty Interview dates for 2017 entry:
Thursday 24 - Friday 25 November 2016
Top
MAPAS General Interviews
---
Applicants who are eligible for MAPAS and have applied to the CertHSc, BHSc and BNurs will be invited to attend a MAPAS General Interview. This interview process is used to establish the best starting point for a career in health.
Applicants need to be prepared to spend ONE whole day (from 8am-6pm) for the interview process, which will be held in Auckland in mid-December. You must make yourself available across ALL MAPAS General Interview dates.
The MAPAS General Interview involves the following process:
Pōwhiri - applicants and their whānau attend a Māori welcome at the beginning of their interview day.
Multiple Mini Interview (MMI) - applicants rotate through a number of stations for short 1:1 interviews to assess the most appropriate academic pathway across a number of domains.
Mathematics test - basic numeracy skills are identifed by a written test.
English literacy test - basic literacy skills are identified by a written test.
Whānau/family feedback - applicants are invited to receive feedback of their assessment with their whānau on the day of the interview. This feedback will be based on our assessment of the Multiple Mini Interview and the Mathematics and English tests and will include a provisional recommendation for an applicant's intended health career/s.
A final MAPAS recommendation is made in mid-January when Year 13 school results become available.
If an applicant has met the criteria for entry to a FMHS programme, then they may still be offered a programme place. MAPAS strongly encourages all applicants to take the MAPAS final recommendation into account when considering their programme of study.
MAPAS General Interview appointment dates will be offerred on:
Submission of a completed MH04 form.
MAPAS approving the verification of ancestry.
You having a current FMHS programme application.
As interview places are limited, we encourage applicants to submit their applications as early as possible. All correspondence will be by email and it is the applicants responsibility to check their email address that has been supplied to the University of Auckland. Dates for interview offers will be notified when the above 3 criteria have been fulfilled.

Top
MAPAS Specialty Interviews
---
Applicants who are eligible for MAPAS and have met programme application requirements for MBChB, BPharm and BOptom may be invited to attend a MAPAS Specialty Interview. A MAPAS Admissions Board reviews all MAPAS applications and will determine whether an applicant is offered a MAPAS Specialty Interview based on an applicant's academic record. Applicants who are invited to a MAPAS Specialty Interview will be notified by email. The MAPAS Specialty Interview consists of a Multiple Mini Interview involving five stations assessing suitability to enter Medicine, Pharmacy and Optometry under MAPAS. Please note all MAPAS Specialty Interviewees will also need to attend a programme interview.
Top
How can MAPAS support me?
---
MAPAS Academic Support
All MAPAS students within the faculty receive additional academic support designed to help them succeed within their courses of study. MAPAS supports students academically by providing the following:
Tracking of attendance and academic progress.
MAPAS group tutorials for specific courses.
MAPAS study space and computers.
Study workshops and wānanga (in conjunction with Student Learning Services).
Support to set up MAPAS study groups.
Senior representation on faculty/programme boards including Board of Admissions and Board of Examiners.

MAPAS Pastoral Support
All MAPAS students within the faculty receive additional pastoral support designed to help them achieve success within their course of study. This includes:
Access to a full-time MAPAS Student Advisor for each programme, who is available to help students with any pastoral issues such as accommodation, financial, personal, family or work.
Assistance to access key support services such as Student Health and Counselling, Student Learning Services, Spiritual and Religious Support, Tuākana Network, Disability Office and the Examinations Office.
Cultural development and support through workshops and wānanga.
Peer/whānau support through regular cohort meetings.
MAPAS wānanga (held prior to Semester One to whakawhanaungatanga/allow students to get to know one another and to learn key study skills).
Top
Scholarships for MAPAS students
---
MAPAS has put together a collection of scholarships for existing and prospective MAPAS students to use to find funding opportunities for their undergraduate degrees. We recommend that all MAPAS students search through these scholarships and identify the ones you are eligible for – and then apply! The main reason students don't get scholarships is because they don't apply for them – but the time put in applying for scholarships is worth the benefit of not having to get a student loan for your fees or a job to financially survive the semester.
So search through our collection of scholarships and start applying!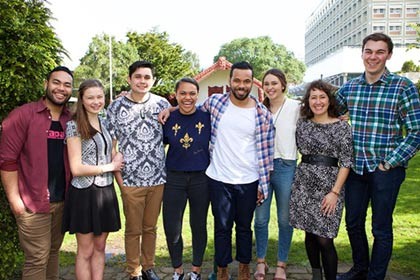 Top